LOCAL DRAFT BEER & WINE
FREE WIRELESS INTERNET
SEASONAL MENUS
WEEKLY SPECIALS
HAPPY HOUR TUE – FRI 3PM -6 PM 
10% DISCOUNT FOR HEROS!
 10% DISCOUNT SENIOR CITIZEN LUNCH TUE-SUN!
BREAKFAST FRIDAY-SUNDAY AT 9 A.M.
NOW ACCEPTING TRITON CASH!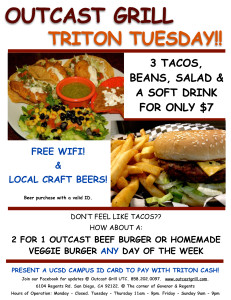 Seasonal menus with favorites from around the world! Try out your favorite local Draft Beer, Wine, & more!  A Carnivore or a Vegetarian, we have something for you: The Best Beefburger in town made from 100%  Angus Beef or a Delicious Beet Salad! We look forward to seeing you all soon at Outcast Grill!!!